Custom Wall Units Cabinets Miami
Miami's Leading Custom wall Unit Cabinet Maker
Are you looking to renovate your walk-in area or have a storage problem in your home? At Luxykitchens we understand your need for not having the right size or space for all your things. That's why we offer fully customizable wall units for all areas of your home. If you live in the Miami area and want better storage for your home, contact us today.
Our custom wall units are designed by you for your living space and can incorporate all the special features.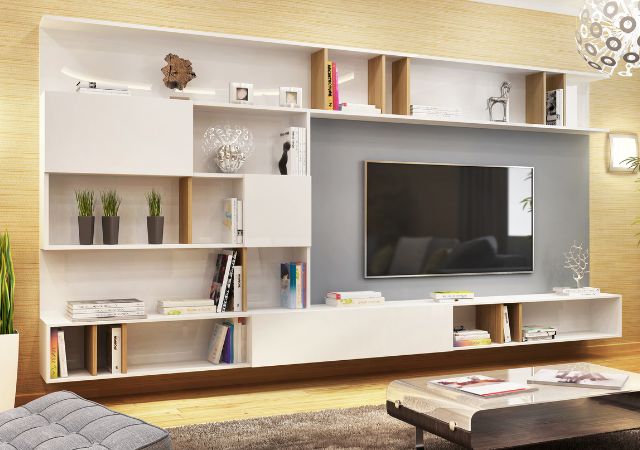 Functionality of custom wall units
Custom wall units are designed to provide the perfect storage solution and wall décor for a specific room or space. Wall units can include various features such as cabinets, shelves, drawers, and hooks for storing , decorating, placing TV and organizing items. Most homeowners take advantage of this as closet. These units can be designed to fit a specific wall, such as a corner or front, and can be customized to match the décor and style of the room. Overall, custom wall units provide a functional and stylish storage solution that can be tailored to meet the unique needs of any space.
Transform any space with custom wall units
Our custom wall units cabinets combine beauty and function to create great design and storage space in almost every area of your home. Whether it's a living room, bedroom, nook, under-stairs space, fireplace, Laundry or TV wall, our custom wall units meet all your needs.
Custom wall units for living room
This innovative design unit complements the latest technology for a built-in entertainment media wall for the living room. This custom wall unit hides all the room's electrical wiring behind doors and makes the room look beautiful. We offer a wide range of custom cabinetry to customize and upgrade your living environment.
Custom wall units with fireplace
Fireplace wall units beautify the living area. We do woodworking to improve bedrooms, living rooms and home offices. Featuring a wall unit cabinet design, this custom fireplace transforms ordinary fireplaces into modern settings for relaxing and entertaining. If you haven't considered adding beautiful fireplace wall cabinets to your home, you can consult us for free.
Latest Completed TV wall Units
Take a look at our range of wall units and start thinking about which design suits your space. You can transform your old wall into a unique wall unit with latest custom designs that will look amazing.
If you have not seen anything here as your dreams? No problem, give us a call, we'll be happy to discuss your needs.
Modern custom built in entertainment center in Miami
We design, build and install modern custom entertainment centers in Miami, FL to store all your media units in one place. Our state-of-the-art entertainment centers manage all your media devices seamlessly. Don't worry our designers can create any design and style for the entertainment center you have in mind. If you are a gamer then the best media center is the custom entertainment center and we have made it just for gaming.  We also create freestanding built-in cabinet entertainment centers that can house all your media components including TV, LCD, gaming, and audio equipment.
Are you looking for custom wall units? Contact LuxyKitchens of Miami for your design based on your needs. We offer a free in-home custom wall unit cabinet design consultation.