Custom Kitchen Design and Remodeling Miami
Best Kitchen Design and Remodeling Contractor
Kitchen is the heart of any home. It's not just a place to prepare food, it's meant to be a place where you eat, cook and spend time with your loved ones.
If you're thinking about a kitchen design and remodeling project in Miami or just want some advice don't hesitate to contact us. We love helping clients realize their dream kitchen. No project is too big or small for our professional team.
We are able to accommodate any type of kitchen design whether it is a modern, contemporary, luxury, traditional, or French Provincial kitchen.
We help you design, ensure you get the most out of your budget, Miami kitchen designers help you choose the right materials and services within your budget.
In our workshop we make exactly according to our competitive kitchen designs. We will be able to guarantee quality and perfection on every piece to exceed your expectations.
Our team has the experience to deliver professional and clean installation results on every job we undertake. You can trust us with your remodeling project.
Why use Luxykitchens for your Custom kitchen design in Miami
With over 20 years of experience, we know the pain of kitchen design and remodeling, so we've created a process with you in mind. We take you from assessment of your project to design, including style, materials, color, building process and keep you updated through professional and clean installation progress.
We are also manufacturer of Custom Closets and Wardrobes. Click here to learn more.
Replace old cabinets with new custom kitchen cabinets
We have custom kitchen cabinets to help you get the most out of your new modern kitchen remodel. If you already have an idea for your new kitchen cabinetry, let us know so we can create custom kitchen cabinets that fit your needs and space. Don't worry if you have no idea, our custom woodworker will help you choose the best kitchen cabinet that will suit your kitchen design.
Choosing the right Kitchen cabinet is important
Our professional and experienced cabinet-making contractor will visit your home to measure your space, working with you to ensure your design and needs are incorporated into the new design. . He will discuss cabinet selection, doors, cabinet color, and storage solutions, and make sure you are 100% happy and satisfied beforehand.
John Doe
We found this company to be more competitive than other places, our kitchen remodeling experience was great. We are planning to remodel our bathroom in the next 6 months!
Milijana Pesic
I've been wanting to update my outdoor kitchen since the summer and called LuxyKitchens to help. They did a fantastic job renovating our kitchen and are really friendly and have great ideas on how to effectively upgrade to your new kitchen. Their services are highly recommended.
Kristin Joy Michael
Beautiful kitchens and incredibly personalized attention! We loved working with Luxykitchens and Max the owner! We recommend them to anyone thinking of building a new home or remodeling their kitchen! From the beginning of the process to the end their incredible staff helped us choose every detail. Loved the process and the result!
saad sha
We hired Luxykitchens and Millwork to help us with the kitchen remodel in our new home and were absolutely blown away by the professionalism of the owners
What Would It Cost for Remodeling a Kitchen?
The final cost estimate for your Kitchen design depends on a variety of factors. However, one of the most 
important factors
 will be what you want to do in your new kitchen.
1-
If you want to go for a
complete kitchen makeover
(redesign and rebuild), it will be expensive. However, it gives you an opportunity to customize the space according to your changing needs and make the kitchen the focal point of your home.
2-
Conversely, minor cosmetic upgrades may be less expensive, but will offer only minor differences in advanced amenities or functionality.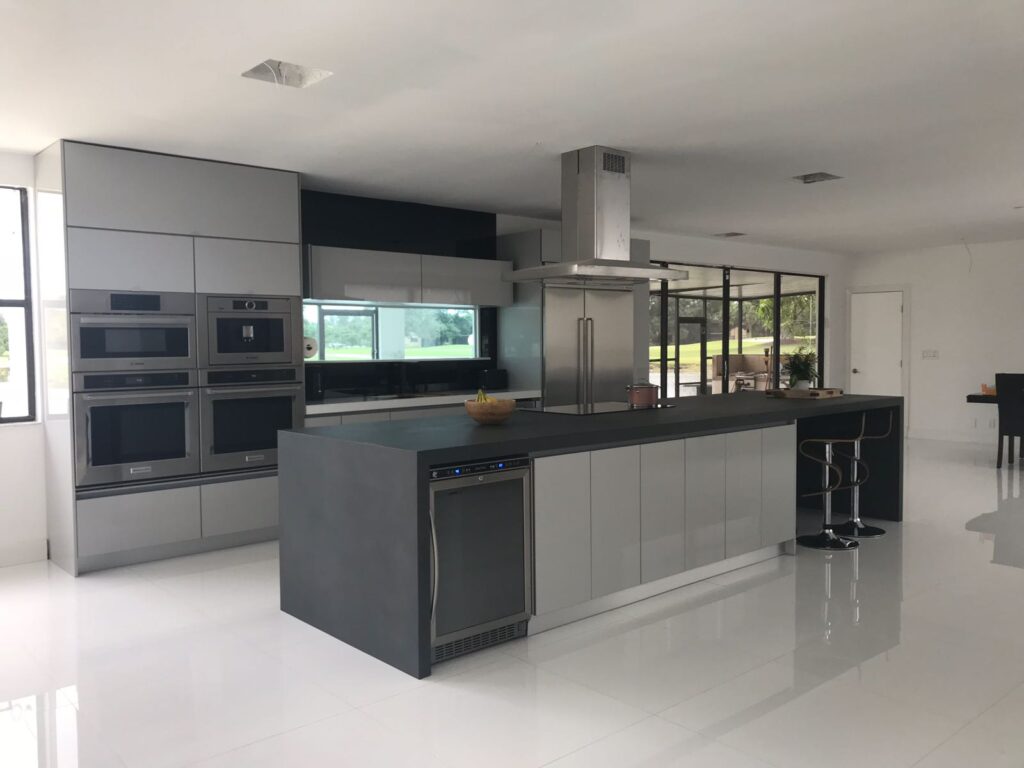 Start Your Kitchen Remodel or Design by Miami Designers Today
If you are looking for kitchen design or remodeling in Miami, contact us at Luxury Kitchens at (786) 361-3551 right away to start the process of designing the kitchen of your dreams.